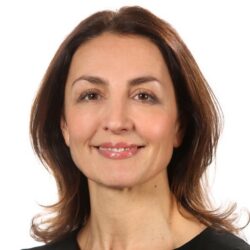 Lisa McDermott
Managing Director - Project Finance ABN AMRO
Lisa has over 25 years' experience in structured finance and a decade of experience within renewable energy. Since 2013, she has been part of the Project Finance team of ABN AMRO – where she leads the bank's renewable and energy transition project financing activities.
During that time, Lisa has spearheaded ABN AMRO's growth in the wind, solar, geothermal and bioenergy sectors in Europe and is actively engaged in the development and financing of emerging technologies to support the energy transition such as hydrogen, PtX, CCS, batteries and advanced biofuels.
Lisa started her career as a lawyer with Clifford Chance before going on to hold several senior origination, structuring and management roles within the financial industry.
Lisa holds a joint first class honours degree in Common and Civil law with French from Queen's University, Belfast and Sciences Politiques Bordeaux and a postgraduate diploma in law from the Nottingham Trent University. Lisa listed amongst the 100 most influential women working globally in the wind industry in the women's power list published by A Word About Wind.
<< Back