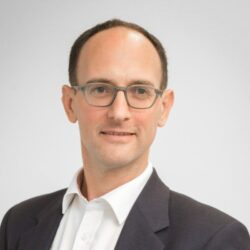 Ben Guest
Managing Director Gresham House New Energy
Ben has been Managing Director and Head of the Gresham House New Energy division since November 2017.
He is also the Fund Manager of Gresham House Energy Storage Fund plc, ​with assets under management (AUM) of over £500m, and was, through 2020, also Fund Manager for the British Strategic Investment Fund (BSIF) strategy which grew AUM to £350m under his leadership. Ben started his fund management career at Lazard Asset Management in 1994 and worked there for nine years​. He later founded Hazel Capital in April 2007, serving as Managing Partner and CIO and which became Gresham House New Energy ​on the acquisition of Hazel Capital's business activities in November 2017.
Prior to founding Hazel Capital, he was a co-founder of Cantillon Capital, where he managed a US$1bn equity hedge fund focused on global technology, media and telecom. Ben currently serves as a director of over 50, mostly project, companies. He has 27 years of investment experience and holds a BEng in Mechanical Engineering from Imperial College.
<< Back