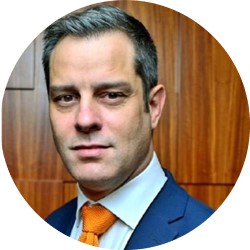 Rafael Narezzi
Chief Technology Officer CF Partners
Rafael leads the development of high-value technology and data solutions to deliver on CF Partners' business mission, bringing an extensive 20 years' experience of systems development across renewables, asset management and research, and a specialisation in cyber security and business resilience.
Holding full accountability for technology and Cybersecurity across CF Partners, he is a member of the board of this leading risk management, trading and asset management firm, which works with more than 900 corporates and sovereigns across commodities trading, risk mitigation and portfolio optimisation.
Currently, Rafael is setting strategy and driving transformation of CF Partners into a leading EnTech, providing technology-enabled solutions in the energy and environmental space, building global teams that are developing an ecosystem of data science and analytics offerings to help organisations with large and complex energy users reach their low-carbon goals.
<< Back