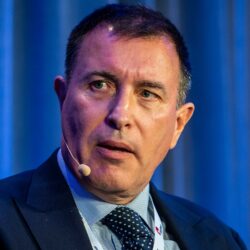 Laurent Segalen
Managing Partner Megawatt-X Ltd
Laurent Segalen is a franco-british clean energy investment banker. He is the founder of Megawatt-X, the London-based Energy transition meta-platform, which he currently heads. Megawatt-X has listed more than 15GW of Wind and Solar transactions over the past 8 years. Between 2019 and 2022, Laurent Segalen was Board Member of the PPA digital platform Zeigo, successfully sold to Schneider Electric in Q1_22.
His career in Clean Energy spans over 25 years, from Director at PWC, Fund Manager at Natixis/Mirova to Managing Director Clean Commodities at Lehman Brothers then Nomura. He was awarded Environmental Deal of the Year 2006 by Environmental Finance. While trading carbon, he was one of the co-authors of "scope 1, scope 2, scope 3" emissions concept and helped create the ETS. He is now special adviser to the Board of IC-VCM.
Finally, Laurent co-hosts the award-winning podcast Redefining Energy.
<< Back