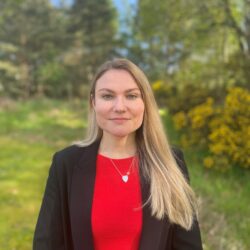 Kateryna McKinnon
Development Manager, Offshore Wind Development Crown Estate Scotland
Kateryna McKinnon is Development Manager in the Offshore Wind Development team at Crown Estate Scotland.
Educated in Ukraine as an Economist, Kateryna has worked in economic development in Scotland for over 15 years. Her experience spans across research and economics, energy and supply chain development, European and International policy and engagement (with a particular focus on the Arctic region).
She currently focusses on managing a portfolio of seabed option to lease agreements for offshore wind, including pre-ScotWind, ScotWind and INTOG Innovation projects.
<< Back