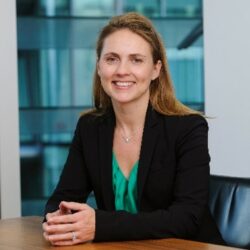 Erin Eisenberg
Vice President – Low Carbon Energy Solutions, Finance - Gas & ‎Low Carbon Energy bp
Erin Eisenberg is vice president, low carbon energy solutions within the finance – gas & low carbon energy team at bp.  She is responsible for supporting the Solar and Offshore Wind businesses and also works with the renewables growth team and treasury on structuring matters across G&LCE portfolio.
Erin joined bp from Macquarie, where she was a managing director in the Macquarie Infrastructure & Real Assets (MIRA) Fund division, with oversight over several renewable energy investments – as well as looking at new investment opportunities in the sector. She worked on a number of acquisitions, disposals and financings in the utility and renewable energy asset classes in over 10 years at MIRA.
Before joining Macquarie, she was a consultant at Bain & Company.
Erin holds an MBA from Harvard Business School where she was a Baker Scholar, as well as a Bachelor's and Master's degree in Industrial Engineering from the University of Michigan.
<< Back