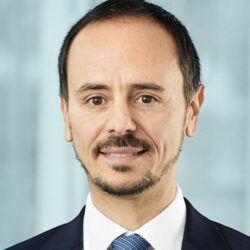 Daniele Tabacco
Director - Green Credit Fund Copenhagen Infrastructure Partners
Daniele Tabacco is a Director at Copenhagen Infrastructure Partners (CIP), based in London, where he leads transaction origination, structuring and execution across Europe for the Green Credit Fund, a debt fund solely dedicated to finance energy transition infrastructure assets.
Daniele has 15 years of investment experience in power and renewable assets, across different structures (equity, debt), technologies (wind, solar, biomass, storage, etc.) and countries (Europe, North America, Australia, Africa).
Prior to joining CIP in 2021, Daniele worked for Bank of America in New York as Senior Vice President in their Renewable Energy Finance (REF) team, where he led $1.6 billion of tax equity and debt financing transactions in U.S. wind, utility-scale/residential solar, and battery storage assets. Previously, he was part of GE Capital's Energy Financial Services (EFS) division, structuring, executing and managing strategic project financings for renewable projects in Western and Central Europe. Daniele had prior experiences at Foresight Group, focused on the Italian solar market, and at Morgan Stanley, in their Commodities global principal investment desk.
Daniele has an MBA from London Business School and an MSc in Aerospace Engineering from the University of Rome. He obtained a Certificate in ESG Investing at the CFA Institute.
<< Back